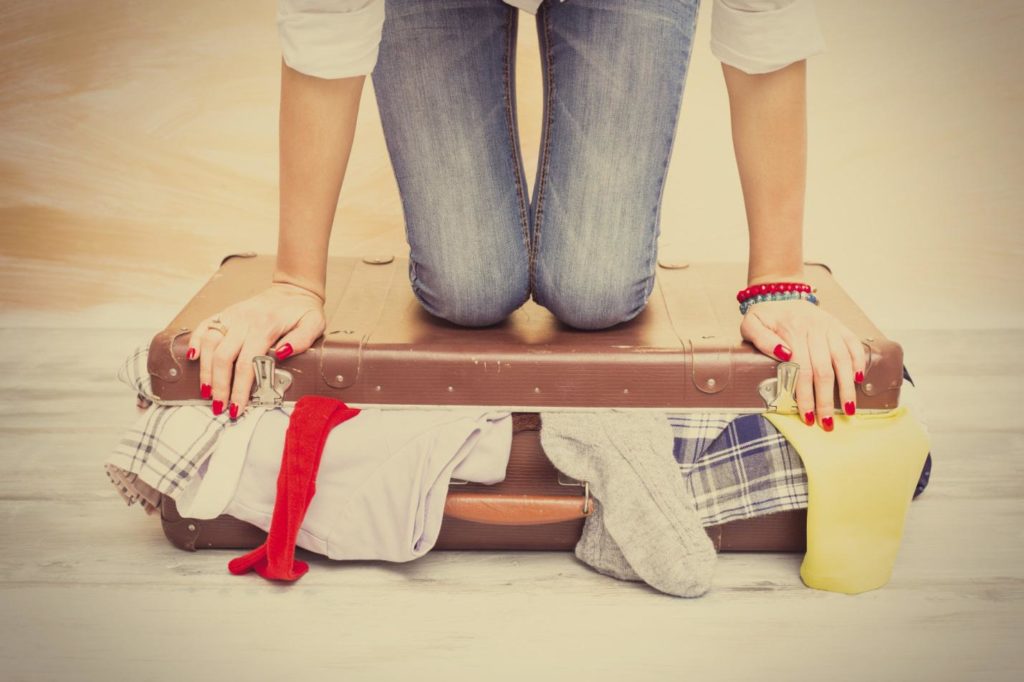 Your plane tickets are purchased, your hotel is booked, and you've just gotten your passport. Everything seems to be in order for your vacation. All that's left is the part that you've been dreading for weeks — the packing.
Packing can make all the other aspects of going on vacation feel like a walk in the park. It never fails you either under pack or pack so much that you can't get your luggage to close. There has to be some kind of trick to it.
You'll find that the best trick is careful planning. To help your packing go smoothly, here is a quick guide on packing a suitcase like a vacationing pro.
1. Create a Travel List 
The first step of being successful at anything is to plan.  Write down a list of everything that you'll need during your trip. It helps if you research and find out what the weather will be like in the place where you will be visiting.
It's also a good idea to figure out what you'll be doing during your visit. If you know you'll be hiking, pack your gear. If you're undecided or feel like you won't hike, leave the gear at home.
2. Choose Your Weapon 
Now that you've laid out all the outfits and gear that you'll need to take with you, it's time to choose your weapon. In this case, your suitcase. You want one that's going to be lightweight and carry everything you need for the trip.
You also need it to have a great warranty because traveling with a suitcase that only has one wheel is a nightmare. Speaking of wheels your best bet is to have one with them. These are typically larger so they can carry more.
Four-wheeled bags will allow you to take the most strain off your wrist. If you're not sure about the terrain that you'll be crossing you can get a wheeled backpack. Wheel it on paved roads and then pick it up and carry it when things get a little bit bumpy.
3. Organize Everything 
So, you've picked your weapon and now it's time to pack it. If you don't organize everything you'll be left with a top that won't zip up. This is why you should invest in a few packing organizers.
These will make it easier for you to fit all your stuff in the bag and will also allow you to know where everything is. That will make unpacking once you get to the hotel go a lot more smoothly.
If your clothes still have too much volume and won't fit, you can pick up compression sacks. You put your clothes in the sack and then vacuum seal them. This will decrease the volume of your clothes by a huge percentage no matter if they are bulky sweaters or your kid's clothes from Nickis.
4. Pack Smart 
Coats, while essential in most climates, are large and take up tons of space. You can cut down on this by bringing clothes that you can layer up. You should also bring clothes that serve more than one function such as a dress that can also double as a skirt.
Shoes are another big factor. You'll need them but they take up space so you don't want to go overboard. Two pairs will suffice.
5. Packing the Toiletry Bag 
Once your clothes are all good to go you'll need to pack your toiletry bag because you'll most likely want to shower while on vacation. Keep in mind that TSA does have liquid rules so even if you could fit your big shampoo bottles in your bag, don't. There is nothing wrong with little travel sizes though.
The main things you will need to place in your toiletry bag is your medications, anything you need to care for contact lenses if you wear them, and your glasses if you wear them. You can buy any other necessities once you get off the plane.
6. Preparing Your Carry-On
You want to put any little items in your carry on such as your phone charger, medications if you didn't stuff them in your toiletry bag, and an extra pair of pants in case of emergencies. You never know when you'll suffer from a rip. That could be an embarrassing walk of shame when you get off the plane.
You may also want to put an extra sweatshirt in the bag. It can get cold during long flights.
7. Travel Documents
There are some documents that you'll need when you arrive at the airport such as your passport and ID. You want to go ahead and have these handy where you can whip them out at a moment's notice.
That's why you should grab an organizer for all your important documents. You can keep it in your purse or carry-on.
8. Don't Plan for Emergencies 
You're going to have the temptation to pack for every small emergency that you can think of. Resist this urge. You can't bring your entire house with you.
Pack the essentials and if you forgot something or you feel like you'll need something later, pick it up when you arrive at your destination. You may have to figure out how you'll bring the extra items back with you but you'll cross that bridge when you get to it.
9. Pull Double Duty  
You don't have to pack clothes if you're already wearing them on your body during check-in. Meaning, dress in layers. You can always take some stuff off and put it in your carry on if you get too hot.
This will save up room in your luggage and your body doesn't have to abide by the same weight requirements that your suitcase has to.
Make Your Next Vacation Easy With These Tips for Packing a Suitcase 
Vacations are great. Packing for them isn't so great. If you don't organize your bag you'll be left with a stubborn top that won't zip let alone stay closed.
We hope you're able to use these tips for packing a suitcase to make room for all the essentials in your bag and be keep your vacation stress free. For more travel tips, explore the rest of our blog.