We first came across these Chuck Norris cards on an eBay auction. They appear to be some sort of card game from a company called Cromy.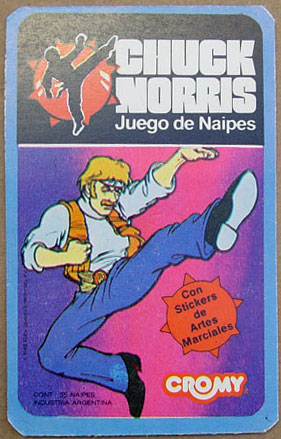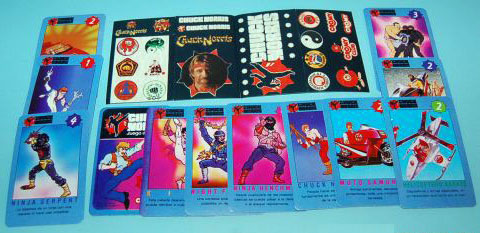 We all know that Chuck Norris is a superhero. Why not a deck of superhero playing cards for him, right? Click the image below to get a bigger pic:
Cromy was a company in Argentina in the 1980s that put out playing cards, posters, stickers, and other accessories based on cartoons, hit shows, and popular kids heros from the 80s era. In addition to Chuck Norris cards, there were cards sold by Cromy for Alf, Barbie, Super Friends, She-Ra, TMNT, etc.
An amusing collection we came across was the Knight Rider/David Hasselhoff card collection, which was known there as El Auto Fantastico.
One of the things you could do with the Knight Rider cards was find all the right "puzzle" cards to assemble your very own pic of David Hasselhoff! Click below for larger image:
Come to think of it, we think it would have been a better show if they called it El Auto Fantastico in the states.
The Cromy company took its name from the Portuguese word "chrome" which means figurine. They were a family business founded in part by Eduardo Stanislavsky, who served as president. Based out of Buenos Aires and later La Rioja, they got their start doing Strawberry Shortcake albums. They went bankrupt in 1995 and was sold off to the Upper Deck Company.
Today, Retro Cromy keeps alive everything Cromy. Chuck Norris and David Hasselhoff should be very proud!