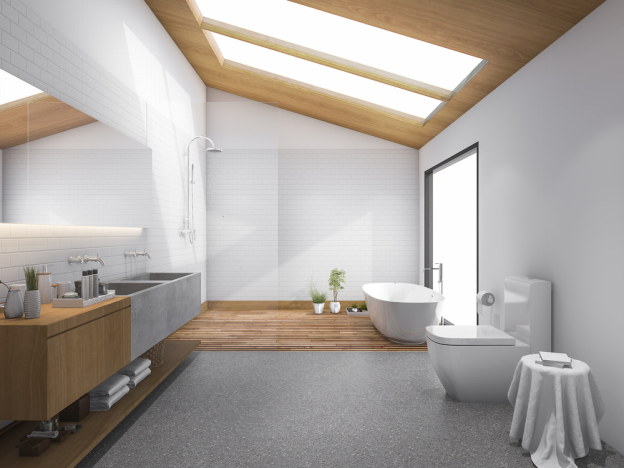 Here comes the sun sang the Beatles. The sun gives us warmth, light, and life, so why not invite the sun into your home. Skylights are a great way to save on energy while bringing warming, natural sunlight into your home. But once you've decided that you want install one, or update an existing one, it can be difficult sifting through all of the products and information out there. Consider the following when embarking on a mission to pick the right skylight for your home.
Finding the Best Placement
Let's start by thinking about placement, because it's important not to leave this as an afterthought. Placement decides the size of your skylight, or how many skylights you are going to need, so it's important to have a clear idea in your mind as to where you want it. In addition to this, you need to consider the shifting position of the sun to maximise the benefits of your skylight.
If you position your skylight to face east, then you will have nice, warm light filtering into the house of a morning. While if you face it west you will get the afternoon sun. The placement also affects the outside appeal of your home. While you're living there and then when you eventually go to sell, you want to ensure that the skylight looks neat and in line with your overall home design from the street. A skylight can add appeal to your home, so think of it as an investment and decide on what skylights will suit your home.
Solar Tube Skylights
Solar tube skylights bring light into your home with minimum cost and fuss, which is what a lot of people look for. As the name suggests they are tubes or tunnels that bring light into your home, but don't offer the visual benefits of larger, traditional skylights.
Traditional Skylights
When most people think of conventional skylights, they think of rectangular windows in the roof. Traditional skylights, when properly placed, will change the entire feeling of that and light up your home. They require some reframing and drywall work, which is a bit like minor surgery to your house and can cause disruptions, but is well worth it.
Glazing
You can buy skylights that are single glazed or double glazed. Double glazing is going to keep the warmth in your house for longer and will reduce outside noise coming in. So if you live in the city with main roads nearby, you will definitely want to get double glazing. And if you live in a cold area, then keeping the warmth in provided by the sun is going to do wonders for your home comfort and electricity bill.
What Costs Are Involved?
Well positioned skylights save you money on electricity, especially if you are home during the day. They obviously cost to purchase and install, which depends on what type of skylight you are getting, but you also need to factor in a small level of maintenance. Don't skimp on the installation costs, as mentioned above you need to ensure that the skylight looks good from outside of your house, and you want to ensure there is no chance of leaking when it rains heavily. So, get someone who really knows what they are doing, and only go the DIY route if you really know what you're doing!
~
If your house is lacking in natural sunlight, then installing a skylight can immediately boost the mood of your home overall. They are versatile and look contemporary and are great to have during the rain and for letting in sunlight in the early morning.