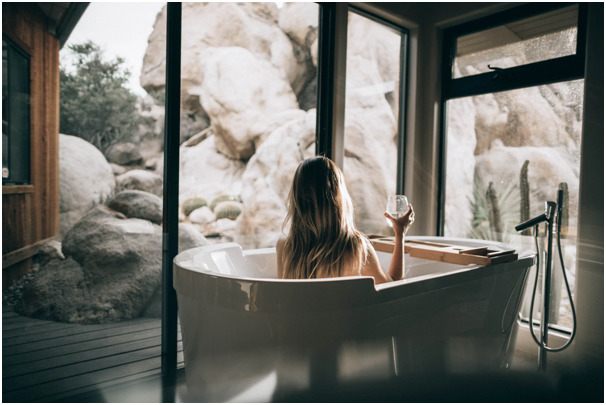 Owning a bathtub can be a great way for you to relax after a long day, and generally gives your bathroom more value than a shower. Different bathtubs aren't just different in shape and color, but the materials also play a part in how durable and easy-to-clean bathtubs are. Before you venture on purchasing the cheapest tub you can find, consider the type that is best for your needs. Bathtubs are an investment; buying the wrong one could have you stuck with a burden for quite some time.
Here's what you need to consider before buying a new tub or replacing what you already have.
Space
One of the primary factors which will inevitably determine your choice is a space. Whatever design you choose for your bathtub should always be suitable for how commodious your bathroom is. Some may make the mistake of opting for something big and luxurious in hopes to add value to their small bathroom, but that will only make it feel like it's out of place. It also beats the purpose of having a relaxing time with your bathtub, as you'll always feel cramped when you're in the restroom.
Shape
If you're designing your bathroom from scratch, bear in mind to choose a design that works with the rest of your bathroom furniture. For instance, vintage tubs may not go with bamboo cabinets, for instance. While round tubs are better suited for large spaces. On the other hand, if you're focused on comfort as well as luxury, buying a round tub may be a waste of money, when you can spend the same amount on a hot tub. The primary reason why many individuals may not opt for a hot tub is because they presume it's high maintenance, but cleaning and maintaining a hot tub is just as easy as maintaining a bathtub nowadays; this website helps walk you through whatever you may need in terms of keeping your hot tub good as new for as long as you have it. Browse your options and compare prices before you decide to purchase a bathtub, in the event your bathroom spares enough space for other options.
Weight
With everything available for purchase on retail websites nowadays, it's easy for individuals to presume that online is always better because it allows you to save time, energy, and possibly money in the long run. But this doesn't apply to everything, especially when it comes to bathroom furniture. There's more to furniture than appearance and dimensions. Weight is just as important when it comes to bathtub purchases, especially if you plan to install your bathtub on upper floors. If your new bathtub is too heavy, you may run into serious complications in the future, and these may not arise until years later.
Material
It goes without saying that material determines the value of your bathtub, but that's not always the case if your provider has used the right paint and has installed it correctly, in which case, you wouldn't need to opt for more expensive materials such as cast-iron. Enameled steel will do the job, but the downside is that water cool down quickly and the surface may be prone to chipping if not enough paint coatings are used. However, there are now more options than only steel and cast-iron, such as proprietary composites, which include porcelain and resins. These offer all the features that come with an expensive cast-iron bathtub, but are not as heavy in weight, which is always a plus for those who wish to install it on your second floor.
Types
You need to also consider the type of bathtub you're purchasing, depending on the design you have in mind, and what kind of pipeline your bathroom has. If you're replacing an alcove tub, then your easiest option is likely opting for another one in the same size. However, if you're designing your bathroom from scratch, you may want to install a free-standing bathtub, as it adds more value and gives the illusion of more space in your bathroom.  If you're not interested in installing a hot tub, and still want a spa-experience, whirlpool bathtubs are a great option. They come with jets that move the water around the tub, which can make your bath very relaxing. The downside is that these kinds of tubs are usually very expensive.
Adding a bathtub in your bathroom can make it look and feel more luxurious. Choosing the right tub for you depends on how spacious your bathroom is, and what your needs are. Make sure you browse your options at a store, and never be afraid to hop in a display model to see if it matches what you're looking for.