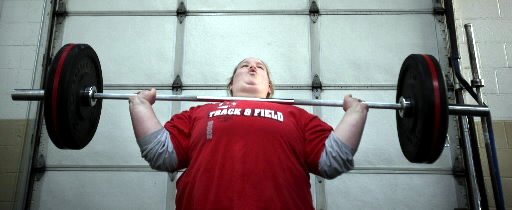 21 year old Holley Mangold is a 320 pound female weightlifter. 323 pounds, actually, and she wants to compete in the 2012 Olympics on the weightlifting team. The sister of NY Jets center Nick Mangold, Holley was a football player herself, before getting into weightlifting. When attending high school in Dayton, she made the team:
"At first, the coach didn't want her — or any girl — on the team, but he said if she could take the two-a-day practices and could handle being hit, she could stay on the team," Jackovich said. "She was hazed until she proved she could take a hit and give a hit as good as any man. She's a great swimmer and she's very flexible — she can do the splits. She's like a sumo wrestler — her fat is on top of her muscle, not mixed in."
Mangold said that weightlifting is mentally challenging and playing football helped her prepare for it. Despite her ability to go toe-to-toe with the big boys, she says she still is very much a "girly-girl" who sports pink nail polish and is afraid of bugs.
A girl who can squat 500 pounds, Holley Mangold went to the American Open meet and won, doing 209 pound lifts for the snatch and 275 pound lifts for the clean-and-jerk event.
"True Life: I'm The Big Girl," is a documentary about Mangold that premiered on MTV last week.
True Life – MTV Shows
Sources for this story: AOL Weird News, Cleveland.com