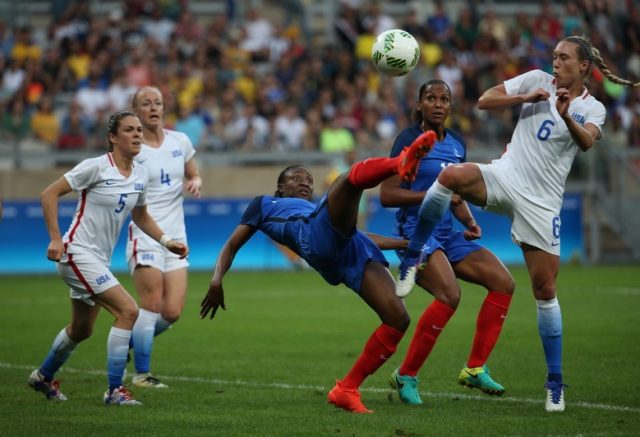 Women's football is rising and no longer do people scoff at females wanting to play the beautiful game. Many still believe the women's game to be insignificant in comparison to men playing the game, however, over four people tuned into the Women's European Championships as England took on Holland. Those figures just so happened to be the highest recorded for the channel in the whole of 2017.
And the previous week, over three million saw England beat France in the quarters, a huge leap from the audience of 2.4 million as the Lionesses clinched third place in the World Cup in 2015. Delving into those figures, it is apparent that countries which boast a stronger and longer history of investing in the women's game, attract higher figures.
Germany hosted a quarter of the entire TV audience at some seven million, for the night on which their women's team overcame Russia in the group stages. And in the US, viewing figures for the 2015 women's World Cup demolished anything comparable for the men's when a total of 25 million Americans watched their side win in the final. Worldwide, 750 million tuned in.
Such figures suggest that the tide is in fact turning and the women's game does hold huge potential for commercial sponsors to exploit, thus leading to huge investment. Hence, it is little surprise that England boss Mark Sampson paid homage to the media in his final press conference of the Euros.
Until crowds regularly turn up to watch league games, clubs will forever have excuse to disband their women's side if they aren't reaping the financial rewards. Notts County offloaded their side just days before the season was due to start, leaving four England players without a club and midfielder Danielle Buet homeless. Alan Hardy, chairman of the Magpies stated that continuing the women's side would be "financial suicide".
However, the women's game is far from financial suicide if given half a chance. In the States, the women's national team outsell the men's in regard to gate receipts and always outperform when it comes it revenue.
Prior to the FA's 50-year ban on women in the sport, women's football in England attracted crowds of 50,000, however, that ban produced decades of under-investment and hostility towards women wanting to join the game. And during the years of disdain of women and the game, the men's game went from strength to strength leading many to believe that there is only a place for men in the game.
However, the fact that women's football is now back with vengeance and we're even seeing the latest football free bets on offer for these games. This should be a lesson to everyone that the strength of spirit of women's football pioneers will never be beaten and the game is here to stay.